I am looking for any printed information, maps and pictures of the Double Cone Trek for this page.
The Double Cone Trek was conceived in 1966 by Camp Director Chet Frisbie and Program Director Red Bryan. They sent three summer camp staff and Eagle Scouts—Bill Roberts, Terry Trotter, and Martin Woodward—to check out a multi-day hike around the camp. Roberts secured a measuring wheel from the Sierra Club. Trotter conducted nature surveys, noting the various flora and fauna at campsites, and took photographs. Woodward was tasked with noting all the campsite amenities or lack thereof, and all three brainstormed about the merit badges that might be worked on during the trek. The hike circles the Boy Scout camp, beginning at Bottcher's Gap, eastward around the Ventana Double Cone though Hiding Canyon and over the Pine Ridge Trail, west over the Big Sur River to Pheiffer Big Sur State Park, and then back east through Pico Blanco Public Camp to the Boy Scout camp. Portions of the last stretch of trail were so overgrown at the time that Roberts had to carry the measuring wheel.
Before camp started in 1967, Roberts took a contingent of the summer camp Scout craft staff on a training hike. George St.Clair led the first group to complete the hike that summer, and two more troops completed the trek that year. Camp sites, mileage points, and GPS coordinates are shown in the table. Each Scout who finishes the long hike is awarded the Double Cone Trek patch.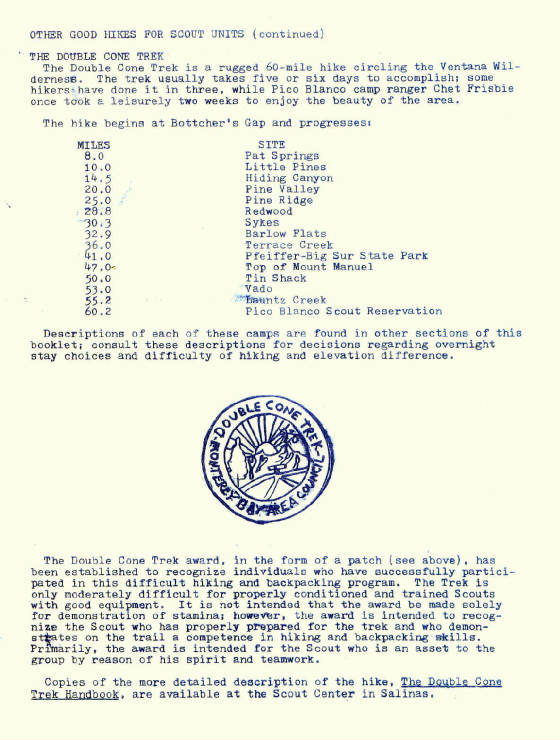 The Double Cone Trek is no longer available. I would like very much to find a copy of the Double Cone Handbook.